Book Review
Lapa das Boleiras: um sítio paleoíndio do carste de Lagoa Santa, MG, Brasil
Museu de Arqueologia e Etnologia, Universidade de São Paulo. Avenida Professor Almeida Prado, 1466, São Paulo, Brazil. Email: danielaortega9@usp.br
<![if !vml]>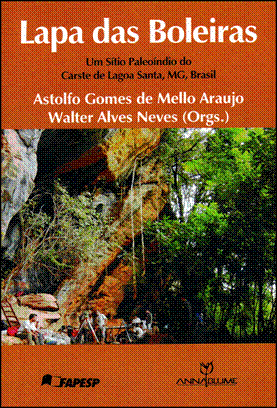 <![endif]>
Lapa das Boleiras: um sítio paleoíndio do carste de Lagoa Santa, MG, Brasil (In English: Lapa das Boleiras: a paleoindian site of the karst in Lagoa Santa, Minas Gerais State, Brazil)
Edited by Astolfo G. M. Araujo & Walter A. Neves
Annablume, Fapesp, 2010, pp. 222. ISBN 978-85-391-0003-3
http://www.annablume.com.br/loja/product_info.php?products_id=1501&osCsid=fepbaq56u55j4rgpmkd398isr2
This book, whose title can be translated to Lapa das Boleiras: a paleoindian site of the karst in Lagoa Santa, Minas Gerais State, Brazil, is edited by Astolfo Araujo and Walter Neves, coordinators of the archaeological works carried out on the site and whose results and discussions are presented in 11 chapters which comprise studies of different areas. The chapter titles presented here are translations, since the book is published in Portuguese.
Chapter 1 "The Lapa das Boleiras: Environmental insertion, historical research and characterization of the site", written by Astolfo Araujo and Emiliano Oliveira, puts the site in its context, geographically and geologically, in the karstic area of Lagoa Santa - more precisely in the municipality of Matozinhos. Likewise, it presents the historical context of the region with a timeline of interventions and archaeological and paleontological studies since the 19th century.
In Chapter 2 "Methods of excavation, sample collection and analysis", the authors Astolfo Araujo and Walter Neves lay out the theoretical framework that guided and influenced the decision making of the methods applied in Lapa das Boleiras. The main strand highlighted is a concern with the most suitable way to define the site, the result of which was the development of a mixed excavation using décapage method and artificial levels, carefully conducted and justified.
On "Stratigraphy and processes of formation of the site" (Chapter 3), Astolfo Araujo, Luís Piló and Walter Neves present the theoretical precepts, methods and terminologies used. The concepts of facies, layers and strata are presented and applied. In addition to the descriptions of the stratigraphic profiles, there are interpretations and hypotheses along with pictures and illustrations.
"The lithic industry" is approached by Astolfo Araujo and Francisco Pugliese in Chapter 4. In this chapter Robert Dunnell has a strong influence, among other authors, with a brilliant discussion that touches upon classification in archeology. The lithic industry of Lapa das Boleiras is presented, which comprises a few retouched flakes, absence of "formalization" and occurrence of "preforms" of arrowheads. It was possible to observe, in the first layers of human occupation, a preference for flint and hyaline quartz over time. The authors contrast the lithic industry of Lapa das Boleiras with the Itaparica and Umbu traditions.
Carved using the lithics, "The bone industry" of the site is discussed in Chapter 5, by Renato Kipnis, Rafael dos Santos and Max Cezário. The artifacts are made of cervid bone and long bones of unidentified origin. Some of them have been classified into three broad categories: spatulas, drills and hooks and present use traces and retouching marks suggesting reuse.
In Chapter 6, "Remains of Fauna", written by Renato Kipnis, Marcos Bissaro and Helbert Prado, there is a description and discussion of the studies of all faunal remains, mostly bone and unidentified parts, excluding mollusc shells, which were not analyzed. Faunal remains are considered to be the result of subsistence activities carried out on the site. The hypothesis presented is that between the end of the Pleistocene and the beginning of the Holocene, subsistence for the human populations of Central Brazil was based on the consumption of fruits and tubers, complemented by the hunting and fishing of small and medium size animals.
Chapter 7, entitled "Preliminary anthracological analysis", by João de Melo and Gregório Ceccantini presents a quantitative profile, by stratigraphic levels, of charred plant traces. This material comes from flotation and sieving of Lapa das Boleiras and there is discussion of the methods of collection applied.
Chapter 8 then deals with "Macro-plant remains: a paleo-ethnobotanical and paleoenvironmental approach", by Celina Nakamura, João de Melo and Gregório Ceccantini. The text presents a brief context of these studies in Brazil and in Lagoa Santa, the methods of collection and analysis carried out, with taxonomic identification of traces through an elaborate reference collection. The interpretation possibilities of the presented results are extensively discussed, having been identified as showing a greater density in the remains of older periods of occupation of the site and highlighting the possible importance of the palm trees in the diet as well as fuel for the bonfires. The species of plants identified present a high sugar content, which corroborates the hypothesis that a diet with significant consumption of plant resources could be one of the causes of caries present in the paleoindian individuals of Lagoa Santa.
A brief description of the burials and "The human bone remnants", in Chapter 9, is presented by Pedro da Glória and Walter Neves. Osteological markers of the nature and quality of life were analyzed in the four skeletons of the site.
Chapter 10 is dedicated to the "Luminescence dating of the sediments of the Lapa das Boleiras" and written by James Feathers. The author deals with the collection of samples, the methods of analysis applied and discusses the results, which are compatible with the radiocarbon chronology,suggesting an age range between 10,000 and 12,000 B.P.
At the end of the book, Astolfo Araujo gives a "Synthesis" (Chapter 11), in which data previously presented is generally discussed, offering a possible narrative, from the present day, to the ancient human occupations in Lapa das Boleiras and Lagoa Santa.
With the contribution of several experts and different studies, although some are preliminary, the book enables the reader to understand the accomplishment of a complete archaeological work. The chapters have organized reasoning that demonstrates the concern of the authors to explain the theoretical motivations which influenced the choice of methods used, both for the ways in which the archaeological work was carried out and in the discussions of the results achieved, contextualized by the regional and broader concerns.
Resenha de Livro:
Lapa das Boleiras: um sítio paleoíndio do carste de Lagoa Santa, MG, Brasil
Museu de Arqueologia e Etnologia, Universidade de São Paulo. Avenida Professor Almeida Prado, 1466, São Paulo, Brazil. Email: danielaortega9@usp.br
Lapa das Boleiras: um sítio paleoíndio do carste de Lagoa Santa, MG, Brasil, é organizado por Astolfo Araujo e Walter Neves, coordenadores dos trabalhos arqueológicos realizados no sítio e cujos resultados e discussões são apresentados em 11 capítulos com estudos de diferentes áreas.
O Capítulo 1 "A Lapa das Boleiras: Inserção ambiental, histórico das pesquisas e caracterização do sítio", redigido por Astolfo Araujo e Emiliano Oliveira, contextualiza o sítio abrigo, geográfica e geologicamente, na área cárstica de Lagoa Santa – mais precisamente no município de Matozinhos. Assim como apresenta o contexto histórico da região, com a trajetória de intervenções e estudos arqueológicos e paleontológicos desde o século XIX.
Já no Capítulo 2, "Métodos de escavação, coleta de amostras e análises realizadas", os autores Astolfo Araujo e Walter Neves explicitam o arcabouço teórico que guiou e influenciou na tomada de decisão dos métodos aplicados na Lapa das Boleiras. O principal eixo ressaltado é a preocupação com um registro que fosse o mais adequado possível do sítio, o que implicou no desenvolvimento de uma escavação mista entre decapagens e níveis artificiais, criteriosamente conduzida e justificada.
Sobre a "Estratigrafia e processos de formação do sítio" (Capítulo 3), Astolfo Araujo, Luís Piló e Walter Neves apresentam os preceitos teóricos, métodos e terminologias utilizados. São apresentados e aplicados os conceitos de fácies, camadas e estratos. Além das descrições dos perfis estratigráficos, há interpretações e hipóteses com fotos e ilustrações.
"A indústria lítica" é abordada por Astolfo Araujo e Francisco Pugliese no capítulo 4. Nesse capítulo, com uma forte influência de Robert Dunnell dentre outros autores, há uma brilhante discussão no que se refere à classificação em arqueologia. Em seguida, é apresentada a indústria lítica da Lapa das Boleiras, em que há poucas lascas retocadas, ausência de "formalização" e ocorrência de "pré-formas" de pontas. Foi possível constatar, em um primeiro momento de ocupação humana, a preferência pelo silexito para o lascamento e pelo quartzo hialino ao longo do tempo. Os autores contrastam a indústria lítica de Lapa das Boleiras com as Tradições Itaparica e Umbu.
Esculpida com a utilização dos líticos, "A indústria óssea" do sítio é abordada no Capítulo 5, por Renato Kipnis, Rafael dos Santos e Max Cezário. Os artefatos são confeccionados em osso de cervídeo e ossos longos com procedência não identificada. Alguns foram classificados em três grandes categorias: espátulas, perfuradores e anzóis, e apresentam marcas de uso e reavivamento para reutilização.
No Capítulo 6, "Os Restos Faunísticos", escrito por Renato Kipnis, Marcos Bissaro e Helbert Prado, há a descrição e discussão dos estudos desse material, em sua maioria ósseo e partes não identificadas, exceto conchas de moluscos, que não foram analisadas. Os vestígios faunísticos são considerados resultantes das atividades de subsistência realizadas no sítio. É apresentada a hipótese na qual entre o fim do Pleistoceno e início do Holoceno, as populações humanas do Brasil Central teriam sua subsistência baseada no consumo de frutos e tubérculos, complementada pela caça e pesca de animais de pequeno e médio porte.
O Capítulo 7, intitulado "Análise antracológica preliminar", por João de Melo e Gregório Ceccantini, traz um perfil quantitativo, por níveis estratigráficos, de vestígios vegetais carbonizados. Esse material é oriundo de flotação e peneira da Lapa das Boleiras e há a discussão acerca dos métodos de coleta aplicados.
Na sequência, o Capítulo 8 trata de "Macro-restos vegetais: uma abordagem paleoetnobotânica e paleoambiental", pelos autores Celina Nakamura, João de Melo e Gregório Ceccantini. O texto apresenta um breve contexto desses estudos no Brasil e em Lagoa Santa, os métodos de coleta e análise realizados, com identificação taxonômica dos vestígios por meio de uma coleção de referência elaborada. As possibilidades de interpretação dos resultados apresentados são extensamente discutidas, tendo sido identificada uma maior densidade nos vestígios em períodos mais recuados de ocupação do sítio e a importância dos coquinhos de palmeiras possivelmente na dieta, quanto como combustível para as fogueiras. As espécies de plantas identificadas apresentam elevados teores de açúcares, o que corrobora a hipótese de que uma dieta com expressivo consumo de recursos vegetais poderia ser uma das causas das cáries presentes nos indivíduos paleoíndios de Lagoa Santa.
Uma breve descrição dos sepultamentos e "Os remanescentes ósseos humanos", título do Capítulo 9, é apresentada por Pedro da Glória e Walter Neves. Marcadores osteológicos de estilo e qualidade de vida foram analisados nos quatro esqueletos do sítio.
O Capítulo 10 se direciona à "Datação por luminescência dos sedimentos da Lapa das Boleiras", redigido por James Feathers. O autor trata da coleta das amostras, do método aplicado e discute os resultados, compatíveis com a cronologia radiocarbônica, o que sugere uma faixa de idade entre 10.000 a 12.000 A.P.
Ao final do livro, Astolfo Araujo traz uma "Síntese" (Capítulo 11), na qual discute os dados anteriormente apresentados de maneira geral, expondo uma possibilidade narrativa até o momento para as antigas ocupações humanas na Lapa das Boleiras e de Lagoa Santa.
Com a contribuição de vários especialistas e diferentes estudos, ainda que alguns sejam preliminares, o livro possibilita ao leitor compreender a realização de um trabalho arqueológico completo. Os capítulos possuem raciocínio organizado que demonstra uma preocupação dos autores em explicitar quais motivações teóricas influenciaram nas escolhas dos métodos, em como o trabalho foi realizado e nas discussões dos resultados alcançados, contextualizados com problemáticas regionais e mais amplas.
Refbacks
There are currently no refbacks.
License URL:
https://creativecommons.org/licenses/by/2.5/
ISSN 2500-980X (Online) 
Take Down Policy